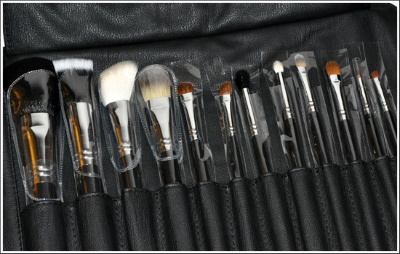 SS150- Ah! Seriously the softest powder brush I own now. It is very dense. Awesome for bronzer as well as powder fpondation. Not scratchy in anyway. Applies my powder products beautifully. Its just a great brush. I love it!!
SS187- I have two stippling brushes from Coastal Scents. They are pretty good but they tend to shed a lot. This brush is great because it doesn't shed at all. It can be used for powder, blush or liquid foundation (I don't like these brushes for liquid foundation)
SS168- Great for blush and contouring...haha I don't really contour but if I do I use this brush.
SS190- I only use this for concealer. I never liked using foundation brushes for foundation. This is a good brush if you were to use it for foundation.
SS194- THE BEST CONCEALER BRUSH FOR UNDER THE EYES!!!!! Its tiny but perfect. Helps so you can apply just the right amount of product. You DO NOT want the area around your eyes to look cakey. That's the worst.
SS275- Tapered and perfect for applying eyeshadow in the crease. This can also be used for high lightening your brow bone.
SS266- Great for applying color to your brows. The good thing is that it is dense enough. I hate flimsy liner brushes.
SS252- This is ideal for applying color. Great size, dense enough. All around great brush.
SS219- Omg this is the best crease brush I have ever used!!!! Perfectly pointed. Puts color where you want it.
SS224- Blending Heaven n_n
SS209- I don't find myself using this brush a lot. I think I can use it as a lip brush. Hmmmm....I will see.
SS239- Soft and very dense. Good for applying color to your lid or your brow bone.
All in all these are great brushes for the price. Better quality than MAC. And for $89.00. You can't bet that.